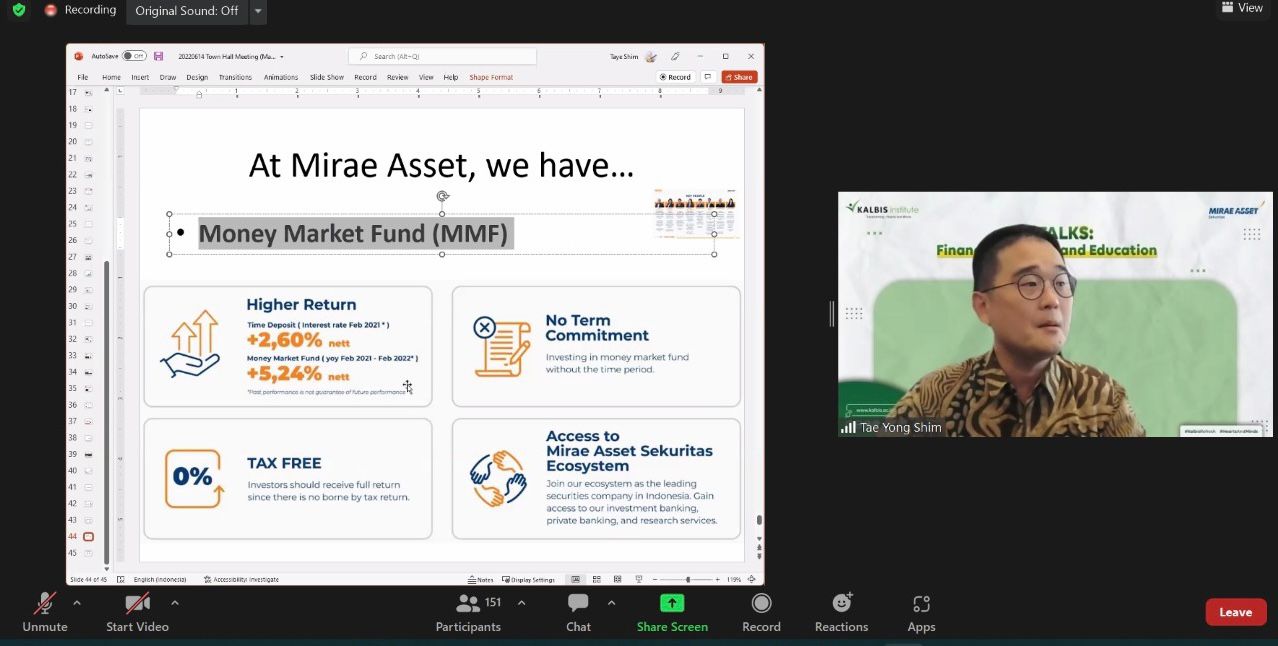 On Tuesday (14/06), Kalbis Institute held another webinar session. Carrying the theme of "Financial Literacy Education", this activity aims to build Kalbis Institute students awareness of financial literacy. Inviting a speaker directly from South Korea, Mr. Tae Yong Shim who is the CEO of Mirae Asset Sekuritas, the topics discussed were very on target because it was delivered by an expert in the field.
This webinar was held using English as the language of delivery but it was not much of an obstacle for the participants from Kalbis Institute, but instead shows the privilege of being able to adapt in all situations. Conducted online through Zoom platform, this activity gathered speakers, committees, and participants from various places and time zones into a webinar.
Randy Liaw, one of the Communication Science Students class of 2021 who served as moderator, greeted the speakers and all participants. After the Rector of Kalbis Institute, Naik Henokh Parmenas, S.H., M.M. delivered his welcoming speech, the event started with the presentation from Tae Yong Shim, CEO of Mirae Asset Sekuritas.
There are many important points emphasized by Mr. Shim regarding finance and its urgency. He emphasized that financial literacy is important, regardless of someone's income or financial condition. Anyone with any financial condition has the same urgency towards understanding finances. Mr. Shim emphasized the perfect timing to manage our assets such as; the right time to buy, the right time to avoid big losses, and the right time to cut finances. To support the urgency of financial literacy which, of course, aims to increase profits, Mr. Shim said that there are several strategies that can be done, one of which is by investing in securities such as those that the Mirae Asset Sekuritas provides.
Mr. Shim introduced the Mirae Asset Sekuritas briefly, including their products and offers. The presentation about the company was further explained by Ms. Ivon, Head of Corporate Secretary. Ms. Ivon said that Mirae Asset is a Money Market Fund (MMF) company that offers several advantages such as higher returns, tax free, no term commitment, and access to Mirae Asset Sekuritas Ecosystem. In addition, Mirae Asset is spread in several places in Indonesia and has a digital platform in the form of an application, Youtube channel, and most interestingly Mirae Asset Academy (capital market class and financial literacy).
The enthusiasm of the participants was very visible in this webinar, as can be seen from the questions asked in the question-and-answer session. Questions asked such as instant results and profits, the impact of financial investment to students, and many other questions related to finance showed that Kalbis Institute students are aware and literate in financial knowledge.
The closing statement from Mr. Tae Yong Shim "If you have many options, you will have the right decision when the right time to start investing is" reminded students to start thinking about finances and assets. For the next events, Kalbis Institute will try to present other interesting topics in seminars to equip the students with not only academic skills but also practical skills and knowledge that can be directly implemented in real life.